I am told that this book sums up my very being: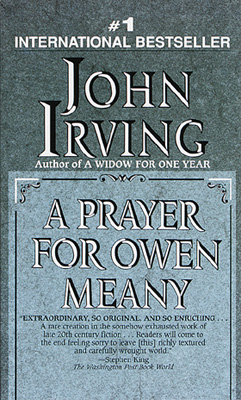 You're A Prayer for Owen Meany!

by John Irving

Despite humble and perhaps literally small beginnings, you inspire faith in almost everyone you know. You are an agent of higher powers, and you manifest
this fact in mysterious and loud ways. A sense of destiny pervades your every waking
moment, and you prepare with great detail for destiny fulfilled. When you speak, IT
SOUNDS LIKE THIS!


Take the Book Quiz
at the Blue Pyramid.
I took this quiz, folks -- the book quiz. And it drove me wild for many different reasons, but mainly because they make you choose between A and B. Between hot and cold, between rabbits and armadillos. And how can you do that? There may be times when I prefer rabbits; there may be times when I'd far rather have myself an armadillo (but hold the leprosy, please). In winter I'd rather be in a hot place than a cool one, and in summer I'd rather be in the refrigerator than wherever I am. But forget all that: then and there you are expected to choose, and you are only given
two
options! Even in life you often get more than
two
options!
The first question was easy:
Are you long-winded?
This rather impressed me; I figured the rest of the test would be a breeze. Then they asked me the hot-cold rabbit-or-armadillo questions and far too quickly, based on my reluctantly given answers, they summed up my personality in this one book. Which is probably a fantastic book, because John Irving is a great writer and Stephen King gave it a thumbs-up, but it still ain't me.
"Despite humble and perhaps literally small beginnings," they say. Okay, yes, that's me to a T, but I reckon they just got lucky. Next we have "...you inspire faith in almost everyone you know." Oh, no I don't. Even our garbage man disses me, and whenever we go anywhere, my kids say "Mom, are you
sure
you know the way?" and refer to previous trips and time spent asking random strangers for directions. My favorite of all, though, is "You prepare with great detail for destiny fulfilled." What in blue blazes is that supposed to mean? I don't even plan for a picnic in great detail, planning for
destiny fulfilled
would thoroughly bamboozle me.
If you've got five minutes to kill (and you know you do if you're here, reading this), please take this quiz, then come back and tell me what book you are. How is it 'you'? How is it completely off the mark? (Yes, folks: I know that the quiz is almost deliberately bogus -- that even the simplest bozo is infinitely too complex to be fathomed by a five-minute test, and that this is really a clever way to promote books. This is tongue in cheek, okay?)
And while we are on the business of promoting books, please visit Chris Eldin's wonderful new blog,
BOOK ROAST
. Chris does a great job of promoting many of the excellent books written by fellow bloggers, and her site is well worth visiting. If you have a book of your own you'd like to promote, drop Chris a line. If you happen to hate books, she also has a great sense of humor, so your visit will not be wasted. If you hate books
and
don't appreciate a good sense of humor, go clean your room...and do you maybe need a snack?
Now I'm off to prepare in great detail for destiny fulfilled. In my compost heap.